Getting In Touch
Contact Us
KCK CHILI SDN. BHD.

(002234986-D)

No. 8 & 10 Lorong Perusahaan 3,
Kimpal Industrial Park,
68100 Batu Caves

+603 6189 0615

+603 6189 0615

+6012 252 6864

khawcheechun58@gmail.com
© 2003-2019 KCK CHILI SDN. BHD. All Rights Reserved.
Kacang Mesin
Fresh and Nature
Our peanut have with skin and without skin. It normally use for Rojak, Apam Balik, Kuah Satay, Kerabu Manga, Ice Kacang,
Ayam Penyet and so on…

Ayam Penyik Recipe
Ingredients:
6 pieces chicken thighs (rinse and drain well, do not throw the skin).
Enough water to cover chicken (Wash chicken and drain well. Prick
chicken all over with a fork)
3 lemon grass, only the white portion, crushed
120 g galangal, peeled and sliced
6 cloves garlic, pounded
2 cm knob tumeric, pounded
1 tablespoon coriander seeds, pounded (Fry coriander seeds over
slow fire till fragrant then grind coarsely)
½ tablespoon cummin seeds (Jintan Manis)
1 thumb size ginger, pounded
4 daun salam (Bay leaves)
4 tablespoon brown sugar
2 tablespoon salt
oil for deep frying
Description:
1. Combine all ingredients in pot except for chicken and oil. Mix well
and taste. Add chicken with enough water to cover the chicken.
2. Place pot on stove. Cook over medium heat for 15-20 minutes until
chicken cooked. Take meat out. Drain and cool it.
3. Strain the soup. Clear broth will be used for soup. Use the
remaining strained cummin and coriander seeds to marinate the
chicken.
4. Add a little broth to the boiled and cooled chicken. Store it in the
fridge.
5. Deep-fry chicken in oil over medium heat till cooked through and
lightly golden brown. Drain in a sieve lined with paper towels. Smash
the chicken thigh with a wooden mallet.
6. To serve: Spoon a bowl of Jasmine or Chicken rice on a plate.
Garnish the rice with spring onions or coriander. Place one chicken
thigh, 2 slices fried tempeh, 2 slices fried beancurd, some salad and
sliced cucumber onto the plate and drizzle some kalamansi juices
over them.
7. Spoon sambal assam onto the side of plate.
8. Fill a small bowl with the chicken soup.
9. Serve hot.
Apam Balik Recipe
Ingredients:
Batter
1 egg
2 tablespoon sugar
1 cup full cream milk (may not need all)
1 tablespoon vanilla essence
1 cup self-raising flour
¼ tablespoon baking soda
Pinch of salt (if using salted butter, omit this)
1 tablespoon cooking oil (I used sunflower oil)
Spice Paste:
6 shallots
1-inch piece galangal
3 stalks lemon grass, white part as it were
4 cloves garlic
1-inch piece ginger, peeled
10 dried chilies (stew arbol), seeded
Description:
1. In a large mixing bowl, whisk egg with sugar until sugar is
dissolved.
2. Add in half cup of milk and vanilla essence, mix well.
3. Sift together self-raising flour with baking soda, add into mixture in
batches.
4.Add in oil and remaining milk, mix until just combined.
5. Cook pancake with non-stick pan on low heat.
6. Once the pancake is done, drop in diced butter, sprinkle ground
peanut and spoon over some creamy sweet corn.
7. Fold it over while it is hold, and cool (do not have to cool
completely) on rack to prevent soggy bottom.
8. Cut into serving size and serve warm.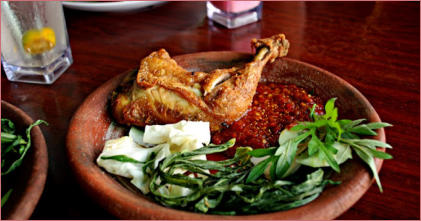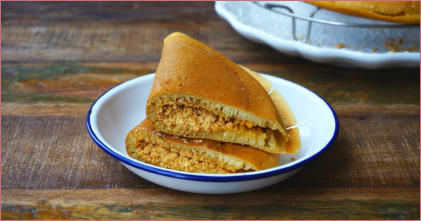 Rojak Recipe
Ingredients:
1 cucumber, washed
1 pineapple, peeled and trunk removed
1 mango, peeled
2 green apples, peeled
2 pieces of yu char kuay (Chinese dough fritters)
4 pieces of tau pok (fried beancurd)
Description:
1 Bring a saucepan of water to the boil and cook the soba noodles
according to the packet instructions. Meanwhile, bring the mirin to a
fast boil in another saucepan for a minute or so to cook off some of
the alcohol, then remove from the heat.
2 To make the gomadare sauce, put the sesame seeds, mirin, miso
paste, soy sauce, agave syrup, rice vinegar and neri goma in a bowl
and mix well. Slowly mix in the dashi, bit by bit, until you reach your
desired consistency.
3 When the noodles are cooked, drain well and twist into a high
mound on each plate with the chopped spring onion piled on top.
Spoon the gomadare sauce into a little bowl beside the noodles and
sprinkle the black sesame seeds on top. Serve immediately. To eat,
pick up a few noodles with chopsticks and dunk them into the
gomadare sauce.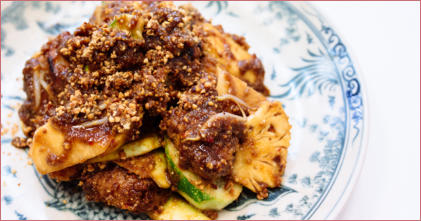 - What Kacang Mesin Can Cook -
Kerabu Manga Recipe
Ingredients:
Mango (shredded)
400g Shallots (thinly sliced)
2 Red Thai chili
2-3 Fish sauce
3-4 tablespoon Lime juice
4-5 tablespoon Dried shrimps
20g Peanuts (toasted)
40g Palm sugar
3-4 tablespoon Dried anchovies (toasted)
Description:
1. Peel the green mango and shred with a zigzag peeler.
2. Soak the mango in ice cold water to make it crispy.
3. Slightly crush the chilies, shallots, dried shrimps and peanuts in a
mortar. Then, put in fish sauce, lime juice, and palm sugar. Mix well.
4. Pour in the above mixture into the sliced mango. Mix well.
5. Garnish with some toasted anchovies and coriander. Serve as a
side dish.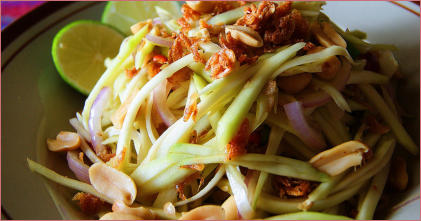 Chinese New Year Peanut Cookies Recipe
Ingredients:
3 cups roasted and ground peanuts
3 cups all-purpose flour
1½ cups butter (melt before using)
1 cup extra-fine sugar
⅛ teaspoon salt
1 egg yolk
Description:
1. Grind the peanuts, and then mix them with flour, salt and sugar.
2. Melt the butter and slowly pour it into the bowl, mixing the
ingredients to create a smooth dough.
3. Finally, take small portions of the dough, roll them into balls and
place them on a tray to bake.
4. Brush the top of the cookies with egg yolk before baking. Baking
time is about 25 minutes.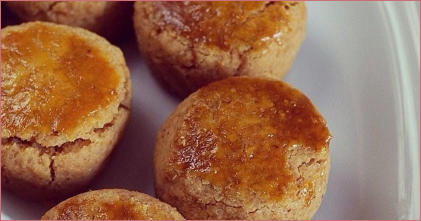 Muah Chee Recipe
Ingredients:
120g glutinous rice flour
180ml water
2 tablespoons of cooking oil
150g of peanut/sugar mix
Description:
1. Mix glutinous rice flour and peanut/sugar.
2. Mix the glutinous rice flour, water and oil in a microwavable bowl
and microwave for 3.5 minutes. The outcome is a sticky white paste.
3. Pour the peanut/sugar mix into another bowl. Cut the sticky paste
into small cubes and coat them well with the mix.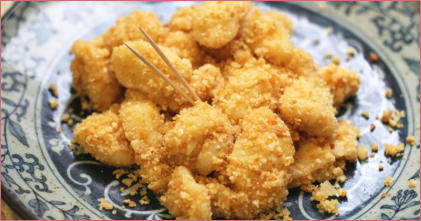 Chinese New Year Yu Sheng Recipe
Ingredients:
100g fresh salmon, thinly sliced
2 cups white radish, thinly shredded
2 cups carrot, thinly sliced
1 cup cucumber, thinly shredded
1 cup sesame
1 red capsicum, thinly sliced
1 tablespoon pickled ginger, thinly shredded
4 sprigs of fresh chinese parsley
¼ cup of chopped peanuts, roasted and unsalted
Toasted sesame seeds for garnish
1 tbsp five spice powder
¼ cup whole-wheat crackers, crushed
Make a sauce:
½ cup of plum sauce
1 tablespoon lemon juice
¼ cup of water
1 tablespoon peanut/ corn oil
1 tablespoon sesame oil
⅛ tablespoon five spice powder
Description:
1. To make the sauce, combine all sauce ingredients and set aside.
2. Arrange the fish slices in the centre of a large platter.
3. Place each type of vegetable in sections around the platter.
4. Sprinkle the pickled ginger, peanut, sesame seeds, parsley and
whole-wheat crackers over the vegetables.
5. Evenly pour the dressing
6. You are ready to toss for good health!